October is Black History Month – this is an annual event where the history of black people is highlighted – people from African countries, people scattered all over the world because of slavery, forced immigration or invitation.
There's an amazing website dedicated to Black History Month – https://www.blackhistorymonth.org.uk/ (opens in a new tab), so I hope you'll take some time this month to have a look at the facts, stories, archives, evidence and personal accounts that are on there.
I've made a small list of books that you might be interested in – all are available now, either in stock or through Send My Book – just "search" through the site for the listing (if I haven't been able to link directly)
Please note that many of these books are focussed on American Black History, but I've included worldwide ones where I can.
If you would like to order any other book about Black History, then please complete the form or send us an email.
How to Be Extraordinary by Rashmi Sirdeshpande
Your little reader will discover the real-life stories behind some of the most extraordinary people. From Nelson Mandela and Abdul Kalam to Mo Farah, Michelle Obama and many more, all of these people have done amazing things – and with this colourful and easily-digestible read, you can explore their stories together.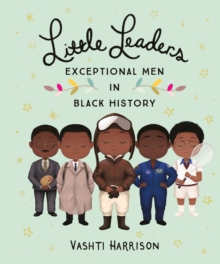 Little Leaders: Exceptional Men in Black History by Vashti Harrison

All throughout history, Black men have stood up and fought for justice and what they believe in. This book tells the stories of 40 Black men, from campaigners, athletes, fashion journalists and musicians who realised their dreams and made the world a better place. Read about the amazing lives of Prince, Paul Stephenson and Kofi Annan with your own future little leader and learn about these great men together.
The Extraordinary Life of Mary Seacole

A nurse in the Crimean war, Mary Seacole cared for the wounded soldiers on the battlefield, despite being turned down to work alongside Florence Nightingale. Mary did invaluable work during the Crimean War, where she rode into battle on horseback to treat soldiers of both armies. She is a maginificent figure, and led a very interesting life.
Timelines from Black History : Leaders, Legends, Legacies
A veritable encyclopaedia of important (and unknown) people throughout black history – with timelines, so that children can see the journeys from pre-history, through ancient civilisations to the modern world.
Africa, Amazing Africa: Country by Country by Atinuke

Discover the amazing diversity of the African continent in this beautiful book, with words by Atinuke and lively illustrations from Mouni Feddag.
A celebration of all 55 countries on the African continent! Her beautifully-written text captures Africa's unique mix of the modern and the traditional, as she explores its geography, its peoples, its animals, its history, its resources and its cultural diversity.
The book divides Africa into five sections: South, East, West, Central and North, each with its own introduction. This is followed by a page per country, containing a delightful mix of friendly, informative text and colourful illustrations. The richest king, the tallest sand dunes and the biggest waterfall on the planet are all here, alongside drummers, cocoa growers, inventors, balancing stones, salt lakes, high-tech cities and nomads who use GPS!
Meet Josephine Baker, the world-famous entertainer, activist and French Resistance agent in this true story of her life! This board book version of Josephine Baker – from the beloved Little People, BIG DREAMS series – follows the incredible life of Josephine Baker, from growing up in St. Louis, Missouri, during segregation to defying expectations and performing on the stage in Paris, where audiences fell in love with her.
Josephine Baker was born for the stage. But growing up in segregated St. Louis, she didn't have the same opportunities as white entertainers. So, she moved to Paris where audiences fell in love with her. Josephine worked as a dancer, an actor, and even a spy. She then spent the rest of her life spreading the word that people of all colors can live together in harmony.
(available in Hardback for older children or in a board book with simpler text for younger children)
Wilma Rudolph
New in the critically acclaimed Little People, BIG DREAMS series, discover the life of Wilma Rudolph, the remarkable sprinter and Olympic champion.
Wilma was born into a family with 22 brothers and sisters, in the segregated South. She contracted polio in her early years and her doctors said she would never walk again. But Wilma persisted with treatment, and she recovered her strength by the age of 12. At school, Wilma showed a talent for basketball and sprinting, earning the nickname 'Skeeter' (mosquito) as she ran so fast. Wilma was in college when she went to the 1960 Olympics. She not only won gold in sprint events, but also broke world records with her sprinting skill. She had beaten polio to become an Olympic champion. She is a huge inspiration to many women in sports around the world. This moving book features stylish and quirky illustrations and extra facts at the back, including a biographical timeline with historical photos and a detailed profile of the athlete's life.
Rosa Parks (Little People Big Dreams)
Discover the incredible life of Rosa Parks, ' The Mother of the Freedom Movement', in this inspiring story. In this true story of an inspiring civil rights activist, Rosa Parks grew up during segregation in Alabama, but she was taught to respect herself and stand up for her rights.
In 1955, Rosa refused to give up her seat to a white man on a segregated bus, sparking the Montgomery Bus Boycott. Her decision had a huge impact on civil rights, eventually leading to the end of segregation on public transport. With stylish and quirky illustrations and extra facts at the back, this empowering series celebrates the important life stories of wonderful women of the world. From designers and artists to scientists, all of them went on to achieve incredible things, yet all of them began life as a little child with a dream.
These books make the lives of these role models accessible for children, providing a powerful message to inspire the next generation of outstanding people who will change the world!
I Am Rosa Parks
Rosa Parks dared to stand up for herself and other African Americans by staying seated, and as a result she helped end public bus segregation and launch the country's civil rights movement. This book tells the story of one of America's icons in an entertaining, conversational way that works well for the youngest nonfiction readers.
Remember to share with us anything you post on social media – we're on Instagram, Twitter and Facebook – please use the tag @nickelbooks, and hashtags #nickelbooks #blackhistorymonth.
Save
Save
Save
Save
Save
Save