Description
Description
Half boy. Half God. All Hero.
Look, I didn't want to be a half-blood. I never asked to be the son of a Greek God. I was just a normal kid, going to school, playing basketball, skateboarding.
The usual. Until I accidentally vaporized my maths teacher. Now I spend my time battling monsters and generally trying to stay alive.
This is the one where Zeus, God of the Sky, thinks I've stolen his lightning bolt – and making Zeus angry is a very bad idea.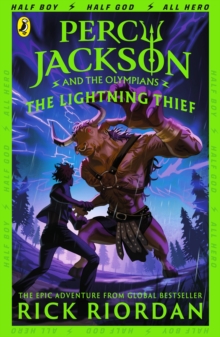 Praise for the Percy Jackson series:
'Witty and inspired. Gripping, touching and deliciously satirical…This is most likely to succeed Rowling. Puffin is on to a winner' – Amanda Craig, The Times
'Puns, jokes and subtle wit, alongside a gripping storyline' – Telegraph
'Perfectly paced, with electrifying moments chasing each other like heartbeats' – New York Times
Rick Riordan is an award-winning mystery writer. For the past fifteen years he has taught at middle schools in the San Francisco Bay area and in Texas. Rick lives in San Antonio, Texas, with his wife and two sons. Percy Jackson and the Lightning Thief, the overall winner of the Red House Children's Book Award, was Rick's first novel featuring the heroic young demigod.
The Percy Jackson series:
The Lightning Thief; The Sea of Monsters; The Battle of the Labyrinth; The Titan's Curse; The Last Olympian
Heroes of Olympus:
The Lost Hero; The Son of Neptune; The Mark of Athena
The Kane Chronicles:
The Red Pyramid; The Throne of Fire; The Serpent's Shadow